N. Alliance hands over America's guided, cruise missiles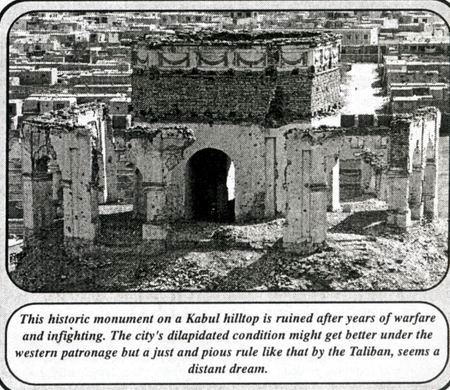 to Russia
By Our Correspondent
KABUL: The Northern Alliance of Afghanistan has handed over America's guided and cruise missiles to Russian experts and scientists.
Informed sources disclosed that during its Oct 7 aggression on Afghanistan, America had used the most modern technology and special
apparatuses for spying. Following the US attacks, Russia had sent two hundred aid workers; seventy of them were scientists and technologists, who had come to Afghanistan to study the US technology being used for bombing and spying.
Helped by the Northern Alliance, the Russian experts visited the bombing sites
and managed to gather the modern technology. The Northern Alliance intrigued with Russia and supplied it with information about the US guided and cruise missiles and satellite, a large number of these missiles had remained unexploded during the bombing.
Reports further reveal that Russia also used the former KGB agents for this
purpose. Russia spent huge amount in detecting and gathering the US technology.
While the Russian mission is still in progress, there are also reports that Russian experts and agents have shifted the US technology and other information to Moscow.
JUST GUESS!
Can you guess what place is seen in the picture? A corner of a living room or a sleeping room?

No, none of them. This is the room of Kandahar's Deputy Inspector General (DIG) and is telling us the story of an era when the Taliban were ruling Afghanistan. During Taliban's rule, the government officials, ministers used to remain engaged in

acquiring and imparting religious knowledge besides performing their official duties. At that time, the orders written in the Quran and Hadith were practically enforced in the society. The Islamic system was not merely a theory or ideology but it was prevailing in the Afghan society, and due to its blessing, the country was slowly emerging as a real model Islamic state.

Islamic system of governance, justice and economy had become almost nonexistent in the world, and Kuffar's form of courts and

government was in vogue when the Taliban introduced such a system that even the DIG would not only solve people's grievances and settle local disputes but also organized the teaching of Islamic law in his room. "Hidaya" a famous book of Islamic law was regularly taught in his room.

It is our misfortune that the Taliban's blessed era passed by and Allah knows whether out eyes would see Islamic System enforced again —

Mulla Jeewan

America starts door-to-door search operation in Khost

By Our Staff Reporter

KHOST: According to reports coming from Khost America and 1800 fighters of its ally, the Northern Alliance, have started a door-to-door search operation in the western and eastern areas of Khost in a bid to overcome the increasing lawlessness and anarchy in the province.

During a survey, the people of the area told our correspondent that during the search operation American soldiers and their allied Afghan fighters are treating the people cruelly and brutally. Many people told our correspondent that during house-to-house search the local

people are being arrested on minor suspicious and then are badly beaten and severely tortured. They said local people are asked about hideouts of the mujahideen, and even old, women and children are not spared during the search operation. Our correspondent adds that due to the bad and cruel behaviours of the American and their allied Afghan fighters, deep resentment and hatred is found against them among the local population, whereas , the popularity graph of the mujahideen is increasing by the day. The local population is now open criticizing the Americans and the interim administration.

US soldiers killed for misbehaving with Afghan girls

Staff Reporter

KABUL: 'Ghairatmand' Afghans killed three American soldiers in Kabul. According to the details three American soldiers misbehaved with two Afghan burqah-clad girls while they were purchasing bread from a store in the central bazar of Kabul. When the relatives of those Afghan girls saw the American soldiers mis-behaving with the girls they attacked them with iron-rods and killed them. Later they threw their bodies on the road as a punishment for misbehaving with Afghan women.

US investigation team arrested allied Afghan fighters

Staff Reporter

KHOST: America had sent its investigation team, to Afghanistan to investigate the recent big attack by mujahideen on Khost airport in which many Americans and their allies were killed, while several others were injured. This investigating team, which included 100 commandoes and a team of investigation experts has completed its report in Khost.

Sources inside Khost airport told our correspondent that the American team, in their report has accused allied Afghan fighters for the attack on the airport. The Americans have, in this context, arrested all its allied Afghan fighters posted at a defence post near the airport and have shifted them to an unknown place for interrogation. According to reports the American investigation team completed its investigation in an amazingly short time and left Khost. Sources say the investigating team was considering itself totally unsafe due to the bad law and order situation of Khost despite being heavily protected by American commandoes. Therefore, the team compiled its report quickly and left Khost.

Officials of interim admin attacked, 7

killed

By Our Staff Reporter

KANDAHAR: Fierce battle is ranging since the last couple of days in Shah Wali Kot area, in the north of Afghan province of Kandahar. Nearly seven intelligence officials of interim Afghan administration have been killed in these clashes, whereas, more than dozen have been injured. It is still unclear who the attackers are or to whom they belong. Some people say they belong • to Mulla Naqib of Kandahar, but it has not been verified by other sources. The important highway

from Uruzgan province to Kandahar via Shah Wali Kot has been closed due to the fighting and every type of vehicular traffic have stopped.

Pak captives get only one bread in 24 hours

Staff Report

SAWAT: Pakistani mujahideen held in torture cells of Afghan

commanders are given only one bread in 24 hours. They are subjected to torture and beating in different ways. They are being sold like sheep and goats.

This was disclosed by Naik

Bahadur, Motasim Billah and other Pakistani mujahideen who were recently released from captivity. They said that the sick were given any treatment. Many Pakistani mujahideen have been martyred while hundreds of others are still missing.

The Afghan commanders receive 60 thousand rupees to release one captive.

Gul Agha wants

to construct world's largest cinema house in Kandahar

Staff Reporter

KANDAHAR: The Governor of Kandahar appointed by the interim Afghan administration Gul Agha has announced that he would construct

world's biggest cinema house in Kandahar. Gul Agha, who has recently returned from Dubai, said that people all over the world would come to Kandahar to see the cinema. He said besides the cinema the construction of a magr ificent five-star hotel, Asia's biggest marriage hall and a latest and modern park in Afghanistan is his long cherished dream. These views were expressed by Gul Agha during a special interview to a foreign news agency the other day.

More killed in fresh violence in Gujarat

Staff Reporter

AHMADABAD: Hours after Chief Minister Narendra Modi claimed in Mumbai on Saturday that Gujarat was returning to normal, violence broke out in many parts of the state late in the night claiming at least nine lives.

The incidents come four days prior to Prime Minister Vajpayee's scheduled visit to the state amid frantic attempts by the government to show a semblance of normal functioning.

The toll in the riots and violence in the state since February 28 has risen to 800. Violence has claimed 325 lives in Ahmadabad alone. The most vicious clashes were reported in the labor-dominated Gomtipur in which at least three persons were killed and 18 injured.

Deaths in communal clashes overnight were also reported from Kadi in Mehsana district and Khambhat and Petlad in Anand

There were reports that at least two persons were still missing in Gomtipur and this could trigger more violence on Sunday evening.

In the Gomtipur area of Ahmadabad, violence was reported from 10 pm onwards and the frenzy continued till well past midnight when Army columns were called in. Heavy stone-throwing, firing and arson were reported from the area.

Miscreants also set ablaze houses and shops in Samsherbagh on Nagri Mill Road and other areas like Mohanlal ni Chawl, Jhulta Minara, Sutharwada and Hauz Wali Masjid.

UNDER SEIGE

Numbed with pain, Asif Ali

sits cross legged on the ground with his badly burned son in his arms, a blank, uncomprehending emptiness in his gaze. His wife and two other children were thrown into a fire by a Hindu mob and burned alive before his eyes. His baby son, who has not uttered a sound since his mother, brother and sister were lulled, was burned too - his little limbs and body are scarred with weeping wounds.

The two are sheltering with about

Madrasah 'Shaheed Shakireen1 turned into an army barrack

Staff Correspondent

KHOST: Educational activities of Quranic teachings in the famous and well-known madrasah 'Shaheed Shakireen' situated near the central Jama mosque of Khost, has been suspended, and it has been turned an army barrack for the police and fighters of the Northern Alliance. The fighters of NA have now openly started drinking and

indulging in immoral behaviour

in this madrasah.

It should be remembered that this famous and renowned madrasah had been a centre for spreading Islam under the supervision of famous and veteran mujahid guerrilla commander Maulvi Jalaluddin Haqqani and several famous and key commanders of the mujahideen have studied from here.

American attempts to keep villagers of Kandahar away from the mujahideen

By Our Correspondent

KANDAHAR: American forces in Kandahar have started distributing food provisions and other items among the villagers residing in areas near the airport.

Local sources told our correspondent that the Americans have become fed up with daily attacks of the mujahideen on the airport. The Americans are certain that the mujahideen are using nearby villages in attack at the airport. According to the sources, the Americans, in a bid to keep the villagers away from the mujahideen, have started distributing food and other expensive items among the local villagers. It should be kept in mind that uptil now several American soldiers have been killed and others injured in attacks on Kandahar airport by the mujahideen.

Local sources say the villagers are staunch Muslims and they think that the Americans are not only enemies of Islam but also consider than as carrying out aggression against their country such enticements would not eradicate American hatred from their heart as scores of their relatives have died during

American bombing.

200 British troops reach Khost to restore peace

Staff Reporter

MIRAN SHAH: More than 200 British troops have reached Khost in special armoured vehicles to restore peace in the eastern Afghan province of Khost and to stop the alleged regrouping of the Taliban. The British troops reached Khost in 14 armoured vehicles. American forces are already in the area. The American and British troops will search tunnels and caves in Warzala, Tanai, Ousawali and Dargai areas.

Meanwhile, the reports of Taliban commander Jalalauddin Haqqani forming special squads to carry out bomb attacks against the British troops are doing rounds in the area. Sources say that the Taliban have formed 'death squads' to carry out 'fidayee' attacks against American forces. Women and children are also said to be parts of these squads. The supporters of the new appointed governor have started preparations for his arrival. On the other hand, American fighter planes continue with their routine bombing over eastern provinces of Paktia, Paktika and Khost.

Suspicious-looking bag

found in Kabul. ISAF forces

vacate premises

Our Correspondent

KABUL: A suspicious-looking bag was found in front of the main entrance of the ISAF base situated in the centre of Kabul city. After getting the news of the bag the ISAF forces quickly vacated the base. The security forces blew up the bag which was alter found to have contained only bricks.

After deployment of the ISAF in

Kabul last December, tfiis is the first such incident. An investigation has been ordered into the incident.

Spokesman of the ISAF British Lt Tony Marshal said the bricks were not left there by accident, but were carefully planted to fool the ISAF forces. 'But we are looking into the matter whether this bag was planted to test our preparations for such eventualities', he added.

People being evicted forcibly from their houses near Khost airport

Our Correspondent

KHOST: The local interim administration, on American orders, has forcibly evicted the local population living around the old airport area in Khost, it is reported.

According to local sources, the reason given for this eviction is that the mujahdieen attack Khost airport from there. It is to be recalled that the other day the local administration, on American orders, had razed down an old

jail near the airport calling it a hideout of the mujahideen.

After their forcible eviction from their houses, the local population is facing hardships and difficulties as they have been forced out of their houses under open skies to undergo the rigours of chilling cold weather. To add to the woes of these people the local interim administration and the fighters of Northern Alliance have taken possession of their houses and belongings.

Bloody clashes feared between rival groups in Nangarhar

By Our Staff Reporter

CHAMAN: Former Core Commander of Nangarhar Haji Zaman of the interim Afghan administration of Hamid Karzai has been released after two months of confinement in a house in Kabul. Haji Zaman was arrested by the Americans for interrogation after Gen Fahim, the Afghan Defence Minister in the interim government, and other government officials had accused him of co-operation with some key al-Qaeda members to escape from Toora Bora. After his release Haji Zaman has been appointed police chief of Nangarhar. His appointment was announced by the interim Afghan administration from Radio Kabul and other day. According to the announcement Hazrat "Ali, the former police chief of Nangarhar, will now be the new core commander.

It should be kept in mind that there exists strong resentment Drive away American forces from Pakistan, national integrity is in danger between Hazrat Ali and Haji Zaman and in the past also

several bloody clashes have taken place between the two groups. Previously when Hazrat Ali was the police chief and Haji Zaman was the core commander of the province, Hazrat Ali interfered in the jurisdiction of the core commander and took over the airport building in Jalalabad by force. Later, an attack was launched on behalf of Hazrat Ali on Jalalabad core headquarters.

Hazrat Ali also took by force Jalalabad cantonment. Sources say eventhough Haji Zaman has taken the charge of police chief, he is not very happy and has already shifted all the weapons from Jalalabad cantonment to police centre, whereas, most of the tanks in the cantonment have been sent to far flung areas in the south of the city. Those keeping an eye on the internal situation of Afghanistan think that the recent measures taken by Haji Zaman will lead to a dangerous conflict between the two rival groups any time in future.

International

NGO's spreading

Christianity and

Bahaiyat in Kabul

By Our Staff Reporter

PESHAWAR: International NGOs have started preaching Christianity and Bahaiyat in Kabul on a large scale. Eyewitnesses coming from Kabul, told our correspondent that international agencies, backed by America and European countries, have become active to turn the people from Islam and make them Christian and Bahai They said these NGOs are specially targeting children and young people in a bid to entice them towards immorality and moral degradation.

US commando was killed by a missile, not in

a mine blast

By Our Staff Reporter

KANDAHAR: The American commando killed the other day near Kandahar airport was not a victim of a land-mine blast, but was killed by an unknown missile fired from outside. Certain eye-witnesses told our correspondent that when the missile, which was fired from an unknown location, hit the airport, fire erupted and there was smoke everywhere. They said the fire raged fore quite some time, and meanwhile, the American and allied troops present there were running hither and thither for cover. Eye-witnesses further stated that the report of one American casualty and one injured was also not true, as the Americans suffered heavy losses in men in this missile attack. But, they said, as the entire area around the airport was sealed off by the Americans after the missile attacks, the details of the damage and casualties could not be immediately known.